I belong.... #surferstrong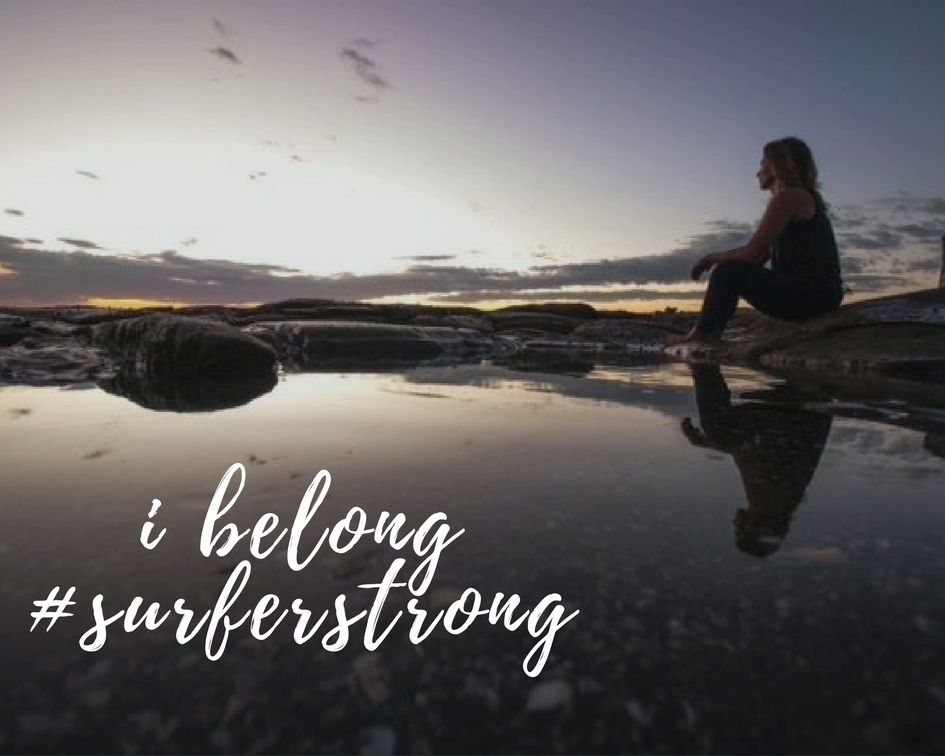 Expect the unexpected. Being an entrepreneur can be very isolating, lonely and comes with a one way ticket on the scariest roller coaster you could ever imagine getting on. If I relate it to the ocean (surprise ;)) it's like you're chasing calm waters in the middle of a big swell. You'll never feel at ease...You will feel the highest of highs and the lowest of lows at any given point.
Building businesses is fucking hard. There is no getting around it. I am a values based business owner which really is a glamorized way of saying I'm living my purpose and dream through the work that I do... really to try to make the biggest impact in the world that I can. My values are my compass in any and all decisions that I make.
There are days when I feel like what I'm doing is completely irrelevant, I feel irrelveant, I feel alone, I feel like I am not being heard and my messages not understood. Being a landlocked surfer in a corporate oil and gas town feels out of place and uncomfortable. There are days when I feel like quitting and am quickly reminded of my why. My values. The impact that I unexpectedly make....
I couldn't help but be overrun by emotion when I received a message from a previous client of my old brick and mortar studio space. This client told me his story of how the very space that I created helped change his life.
Side note: you have to remember that I was a counsellor in the justice system for many years and never felt like I made an impact. Which was what really drew me to wellness, to serve people who were seeking help and not being forced to seek help.
I couldn't believe reading his message as he disclosed how he went from being in weekly therapy sessions battling depression to now a thriving, positive, successful, outgoing individual, and in his words " was an important piece in helping him get to where he is today".
Tears streamed down my face with joy and overwhelm as I realized something really big. Something that I have been battling with for a very long time. In a city that I always felt out of place in, disconnected and irrelevant... today I am supported. I belong. I realized that I foster and grow surferstrong minds and bodies. I am providing a retreat even for a brief moment in your day to day. My message is heard and this community I've created is embraced.
As surfers, we speak a common language without using words. We understand one another without the need for an explanation. We share the common goal of chasing that feeling of joy and euphoria even for just a second as we catch a wave and support one another as we try. We have the same love and respect for the beautiful ocean we play in. We are a surferstrong community and what I'm realizing is this mindset, movement, mentality that I am trying to create doesn't need to come from the ocean or surfing. We can find it anywhere we build it. It's a community.
From the bottom of my heart, thank you for sharing your inspiring and moving stories... you have no idea how much this means to me. You showing up in an open and vulnerable way is going to impact beyond me. I am honoured to have you as part of my #surferstrong movement and community.
If you have a story you want to share, whether you are a client, a fellow business owner, a colleague, peer, or friend that you think could make a difference in someone's life by simply not feeling alone anymore.. by feeling part of this #surferstrong community. Please share either by emailing me at inspire@mallorychapman.com or post on your social channel with the #surferstrong..... you might change someone's life.
Although I don't have a physical space to cultivate community anymore, in a lot of ways it's a positive change. I now have the ability to foster and grow this #surferstrong movement all over the world online through swellness.co.  I was very apprehensive and skeptical of whether or not it was truly possible to create connection without being physically present, and well.... I have been blown away. I welcome you to join this movement if you aren't already on this journey with me. Visit  swellness.co to find out more.
Thank you,
Yours truly,
Mallory